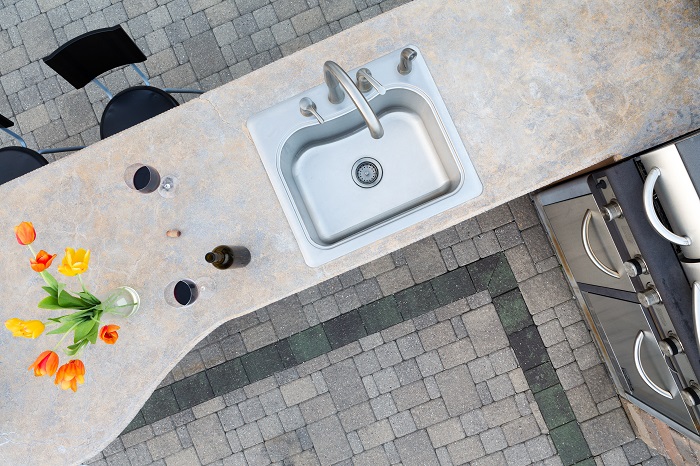 Choosing the right countertop is really important in the grand design of your kitchen or bathroom. Granite countertops have been done to death and if you are looking at something modern and new then you should look at concrete countertops. Concrete countertops are general-purpose mortar mix, which is one part cement to three parts sand but with technological advances admixtures are added to the concrete application for color and design flexibility.
They are the new hot product in the market because of its flexibility and unique design features. Concrete countertops can be personalized and cast to any shape and size according to each customer's specifications, making each countertop absolutely unique. Concrete countertops look like natural stone and fits in perfectly into any urban kitchen setting. Additionally, you can integrate sinks or dish drain, soap dish directly into the countertops.  Let us look at the advantages of using concrete over alternative countertop types for your home.
Durability
Concrete countertops are durable, long lasting, and can withstand heavy use when properly sealed and the materials have to support various objects overtime and be resistant. Concrete countertops are ideal for kitchens and bathrooms because it is resistant to heat and scratching. You do not have to worry about potential damage before putting a hot pan down on your countertop.  Large concrete countertops may have seams, but they can be minimized and made to look seamless using filler. Concrete is a dynamic material that shows changes over time, with the patina gaining character and adding coziness to the room.
Style Options
Concrete countertops are versatile and come in different dyes, stains, colors, shape or sizes depending on the design style of your choice. You can pick something matching your existing décor or you can mold and cast your countertop according to your preferences. They can be stained or tinted to any shade to delightfully integrate with your kitchen or bathroom cabinets. It's also possible to customize your concrete by embedding items or unique inlays such as recycled glass, shells and stones or adding special edges. It can even be given the appearance of granite or marble with special glazing treatment. Concrete countertops tend to change and develop a patina, which adds warmth and character to it.
Easy to Maintain
In addition to be durable and stylish, concrete countertops are low- maintenance and easy to keep clean. You can keep them clean by simply rinsing with warm soapy water. Concrete retains its integrity and does not decay or chip like some other materials. They are a sustainable countertop design option because the surface does not attract and hold dust. Concrete can be very eco-friendly, and completely recyclable, too.
Concrete countertops can work beautifully for kitchen styles ranging from the classic, natural looking to polished, contemporary look.  If you go for concrete countertops, you can make them last longer by protecting them with sealers, which can either be water based, solvent based, polyurethanes, and epoxies. Read up on the best sealer for your concrete job and do your homework before starting on your countertop project.  It may be a good idea to take some time and find the right people to hire for the kitchen concrete pouring job. It may be worth the money in the long run.
 Davis Concrete is a family-owned and operated concrete business that provides Florida homeowners and contractors with the very best building materials in Clearwater, Tampa, Bradenton and Lakeland