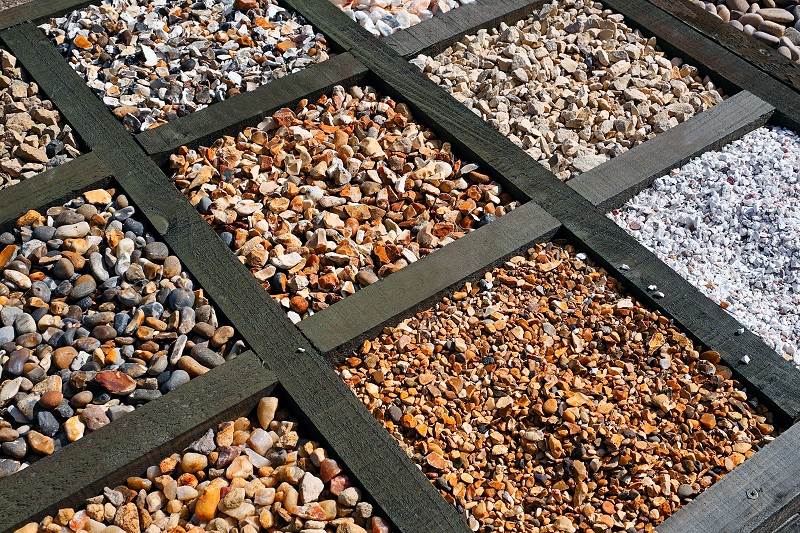 Landscape gravel is commonly used for the beautification of garden surrounds, around pools, patio and yards with little effort. It has become a favorite with home owners and landscapers because the crushed stone material requires little maintenance, additionally they adds texture and color. Also consider the practical benefits of using landscape gravel for ground cover such as preventing soil erosion controlling weed growth, and facilitating yard drainage.
Gravel and stone make for smart substitutes, especially for those concerned about water conservation and chemical use in yards. Landscape gravel usually finds a place in every home due to their natural appearance and durability factor.
Types of Landscape Gravel
Landscape gravel is hugely versatile not only on the basis of its numerous uses but also because of its availability in a variety of shapes, sizes and colors.
Decomposed granite
Decomposed granite is weathered down granite that has broken down into smaller rocks and silt. It usually comes in tan, grey or mauve that lightens slowly over time from time in the sun. Compared to other gravel types it can compact rather tightly but a stabilizer should be added if used in high traffic places such as patios and driveways. With wear and tear over the years this variety continues to decompose into the soil, so it requires new layers to be added.
Pea gravel
Pea gravels are smooth rounded stones that come in small or large size from 1/8 inches to 1.25 inches thick. This translucent river rock also comes in a wide range of mixed colors from tan, gray, white and brown. It is very easy to walk on pea gravel so it is often used in pet-friendly yards. Also bear in mind that it is so lightweight that in case of high winds they might blow away.
River Rock
River rock is typically rounded, big and smooth that comes in shades of gray or brown. It can be packed tight because of its shape and therefore works well for drainage. It looks rather attractive when used to line walkways and since there are no sharp edges it is especially easy on the feet. River rock can also prevent soil erosion in planters, or flower and garden beds rather well. Often homeowners going for a rustic design combine river rock with mortar into fence facades and outdoor fireplaces.
Lava Rock
Lava rock is lightweight, porous, irregular shaped rocks actually harvested from inactive volcanoes. They come in hues of black or red and sizes range from3/4 to 1-1/4 inches. Lava rocks do not decompose, so they don't need frequent replacement. Lava rock is used extensively in driveways, walkways or gardens because it offers good drainage and packs down well. Additional layers may need to be added to maintain good ground cover thickness.
Crushed gravel
Crushed gravel rocks are irregular rock fragments that are a little bit larger than decomposed gravel and much less smooth than pea gravel. Their shape helps the rock interlock and provide good packing for driveways, roads, and pathways. It can add texture to cactus gardens or something similar. The size of crushed gravel ranges from 1/4 to 3/4 inches.
Washed gravel
Washed gravel like Del Rio and Lodi come in attractive speckled colors like grey, white, gold and tan. Del Rio ranges in sizes from 3/8 inches to ¾ inch wide, while Lodi changes from 1 and 1.5 inches. They are most frequently used for mulching or simply to add decorative appeal to garden surrounds.
White Gravel
This variety of landscape gravel is used around gardens and flowed beds to highlight certain areas. They can bounce back light, so in damp, dark winter conditions they can create a lot of desired light.
Shore Gravel
Shore gravel stones are naturally rounded, beige, smooth stones available in 3/8 and ¾ inches. The smooth edging is particularly suitable for surrounding shorelines and pool surrounds in home environments.
 Davis Concrete is a family-owned and operated concrete business that provides Florida homeowners and contractors with the very best building materials in Clearwater, Tampa, Bradenton and Lakeland