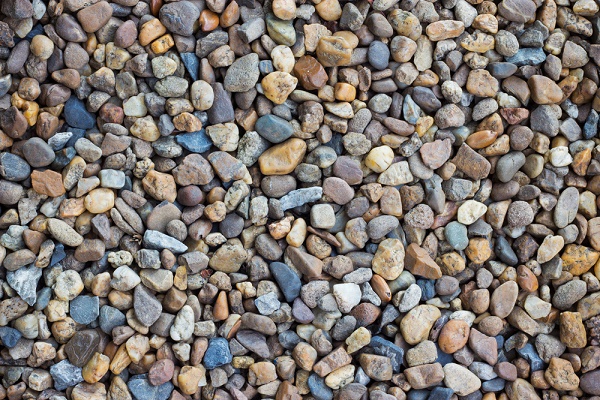 Gravel is an angular or rounded stone material that can range between five to thirty millimeters, usually used as an eco-friendly landscaping choice. Angular gravels are a by-product of crushing from quarries and rounded gravel is sourced from river beds, beaches or from dredging channels. They are commonly used for beautification of a garden, yard, patio or pathway by designers and homeowners.  The crushed stone requires minimal maintenance while adding texture and color. Additionally gravel allows drainage being permeable, is sturdy and with more aesthetically pleasing choices in colors and textures.
River gravel consists of smooth, rounded stones in an array of colors, such as white, brown, yellow and different sizes that can be used to pull off versatile landscape designs and to easily brighten up your yard. Davis Concrete, Masonry and Landscaping offers high quality river gravel in a variety of colors and sizes for any project needs:
3/8″ Brown River Gravel
3/8″ White River Gravel
1/2″ Brown River Gravel
1/2″ White River Gravel
3/4 Brown River Gravel
3/4″ White River Gravel
1″ Brown River Gravel
1″ White River Gravel
1.5″ Brown River Gravel
1.5″ White River Gravel
(1″-4″) Deco Brown River Gravel
(1″-4″) Deco White River Gravel
Advantages of River Gravel
There are many benefits of using river gravel, here are just a few:
Low maintenance
Variety of colors and sizes
Easy to install or lay
Exceptionally beautiful when wet and dry
Hardy and tough material
Relatively cheap
Reduces weed growth
Permeable, allows water to drain
Minimal water usage
Applications of River Gravel
River gravel has a wide range of uses because of its versatility but the most popular use is in driveways. This gravel instantaneously brightens up the landscape to create a visually aesthetically pleasing look at the front of your home. When you use gravel for your driveway it requires little maintenance, especially if you have laid a fabric before installing your gravel driveway. Also gravel driveways offer an ideal drainage solution, with the rain water easily penetrating down to ensure your driveway is always flood-free.
River gravel can also be used for walkways to the front door or to create garden pathways.  You can pack in river rock tightly to create a durable, flat surface underfoot that requires little maintenance.
Another common use for river gravel is as paving around patios and or garden border to add structure to your landscape. The natural color and rounded soft sides can be used for edging to enhance the look of the lawn. The gravel blends well with all types of greenery, plants or shrubs to complement them further.
Lastly, gravel can also be used as surface mulch for garden areas, with a top-soil underneath the gravel for adequate nourishment of the plants. The gravel on the surface helps to guard against moisture evaporation and also restricts weed growth in garden beds.
These are just a few applications that show the versatility of river gravel. However, we're sure you've seen or even used river gravel in a different way.
If you have any questions about gravel, stone or any other landscaping supplies, contact our experts at Davis Concrete. We'd love to help with your project.