Image Gallery
Davis Concrete & Landscaping Image Galleries.
Are you in search of a professional concrete company with unparalleled experience? Faced with a concrete problem that other contractors just can't fulfill? Are you in need of a large municipal contract and are looking for a leading concrete company to get the job done? If this describes you, we are ready to help you, to as we say, get it "done once, done right."
Feel free to browse through our many completed projects that includes concrete, stucco, plaster, gravel and other building supplies. Whatever your project needs are, small or large, Davis Concrete is who you want to build with.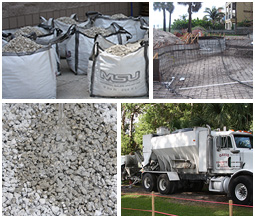 Concrete
Concrete has been a major building component since the Ancient Romans. The main ingredients include aggregate, Portland, sand and water. There is a wide variety of finishes and forms of concrete. Concrete combined with steel reinforcement is one of the strongest man made building materials ever created. Concrete has been a trusted material that withstands brutal weather and time.
Davis has been providing outstanding quality and service since the 1940's.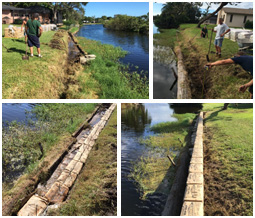 Retaining Wall
This is a steel reinforced, Rip Rap Retaining wall. The bags are biodegradable and have zero impact on the environment as they dissolve.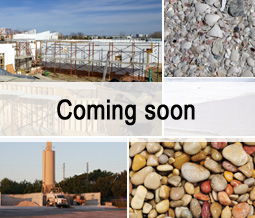 Stucco
Stucco is often confused with plaster, however they are quite different in composition as well as where they can be placed. Modern Stucco is comprised of Portland, sand, lime and water. It can be applied over almost any building surface and may be used both indoors and outdoors. There are endless possibilities when it comes to finishing stucco. It is always recommended that wire lath be applied to the substrate before the stucco is placed. Stucco should be applied in 3 coats: Basecoat, Scratch-coat and Finish-coat.
Davis Concrete only stocks premium materials and has all the components you need to complete your stucco project.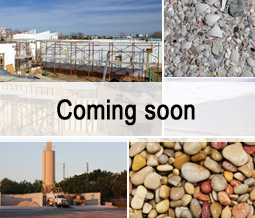 Plaster
Modern plaster typically comes in a powder form and is mixed with water to make a paste. Depending on the texture and finish desired, it can be mixed with silica sand of all gradations. It can also be applied without sand if a smooth, slick finish is desired. Plaster should always be applied indoors, preferably in an air-conditioned atmosphere.
Davis Concrete stocks premium veneer plaster to ensure your project has a high quality finish.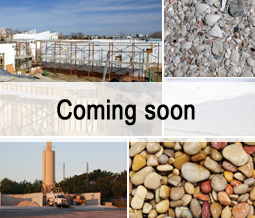 Gravel
Gravel is a natural product used for landscaping, drainage, building foundations, paving, concrete aggregate, etc. It comes in a multitude of colors, shapes and sizes. Gravel ranges from 1/16"-3" and comes from all over the world. It can be sold in its natural form, may be crushed and/or washed depending on what it is intended for.
Davis Concrete has a wide variety of gravel to cover all your needs.